Ocean City, Maryland
Visitor Information & Vacation Planner
It's Time to Start Planning Your Trip to Ocean City.
Why Come To Ocean City, Maryland For Your Beach Vacation?
Where to Stay in OC
If you want to be on the beach and boardwalk and in the middle of the action look in the Downtown & Midtown area.  That will put you closest to the boardwalk, amusements, shopping, beach, dining and minimize any driving.  The larger hotels are located here.  For those who prefer condos & a quieter area, look in North Ocean City.  Visit our Area Guide section to learn more about the different parts of Ocean City.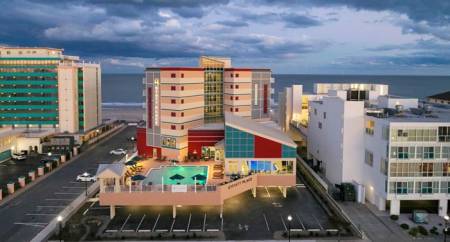 Hotels, Motels, Condos, & Vacation Rentals
Search the Ocean City, MD Lodging directory and guide to find the perfect place to stay on your vacation. View Hotels & Lodging
Bars & Restaurants in Ocean City
Ocean City has one of the most diverse restaurant selections available on Maryland's Eastern Shore.  Fine dining, award-winning wine lists, craft breweries and local bars and restaurants with farm-to-table menu items and lots of local seafood.  You'll find great burgers, barbecue, and many vegetarian options as well. We have lots of crab houses to choose from and there are some that will deliver. 
And when you're ready to get your drink on you'll find everything from relaxing cocktails by the beach to lively bars and clubs.  
Visit our EAT & DRINK section to browse restaurants by area and for popular Ocean City restaurant recommendations.
Find Something to Do in Ocean City
Of course, we have our beaches and our beach guide will help you navigate your vacations.
OceanCity.com is full of tips and ideas to keep everyone happy & busy.  View event listings, discover exciting tours, parasailing and jet-skiing options, boat rentals, fishing information, free activities and more.
Ocean City is a growing craft brewery destination and is host to the popular Shore Craft Beer Fests featuring local craft breweries.
There is an active Art League of Ocean City working to bring more local public art to the area.
Headline Events & Festivals
In addition to the town's Springfest, Sunset, and Winterfest celebrations, we have big events that attract thousands like the Ocean City Air Show and Bike Week.
Things to Do in Ocean City
View our activity guide for information on Watersports, Boat & Jet Ski Rentals, Amusements, Mini-Golf, Golf Courses, Assateague Island, and of course THE BEACHES!
Special offers and Discounts
Save on your Ocean City visit with our offers and coupons.