Usually I go on my Happy Hour Adventures on a whim. I don't scout these places out but rather pop in with my camera and ask if I can hang out and take some photos. The Longboard Cafe was the first place I made a conscious decision to visit. I'd been there the day before for lunch and the midday experience was such that I really wanted to get a gander at Happy Hour. I had the privilege of sitting not only within arm's reach of the hot sauce bar (more on that in a second) but also near the proper bar. The beer and liquor selection along told me this was a place for people who prefer better drinks. I like to think I'm one of those people. I wanted to come back when the place was filled with my peers. But first things first: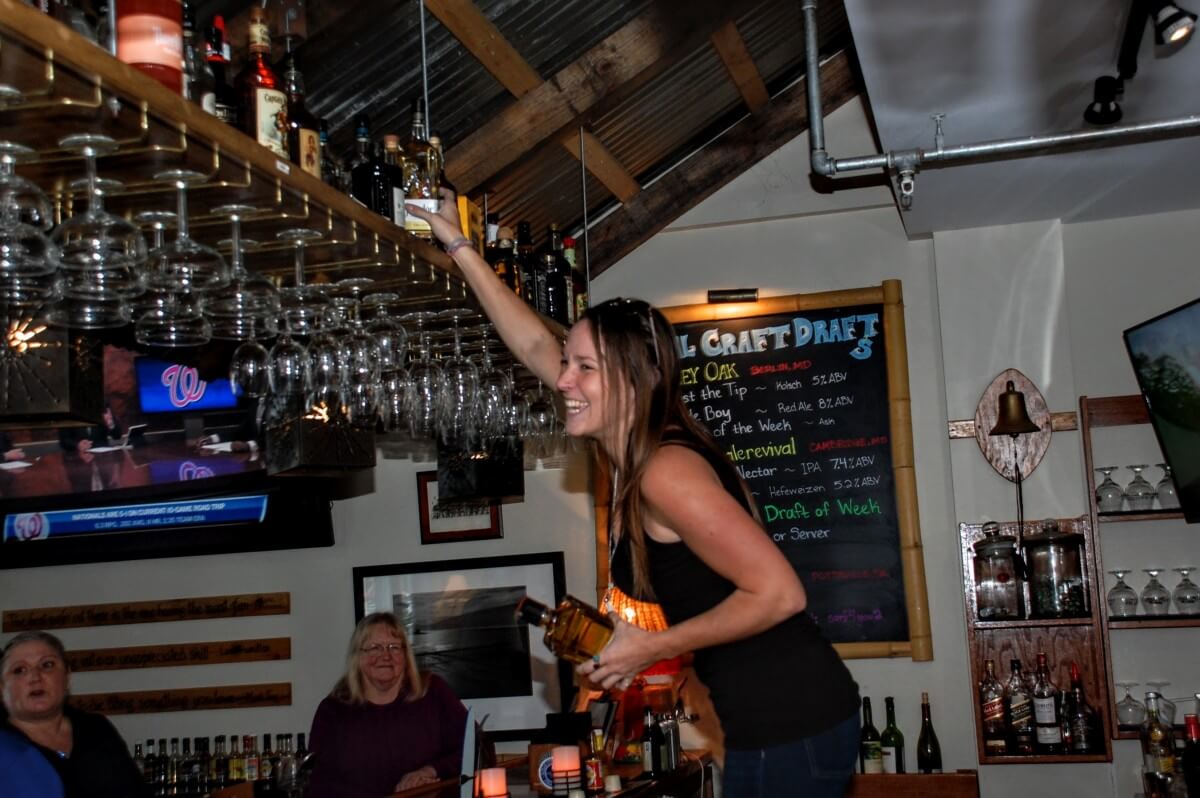 Lunch, hot sauce and margaritas
For my lunch appetizer (yes, appetizer, I was hungry) I had the Wrinkled Green Beans, which I had been given to understand was a house specialty. The beans are deep fried but not battered and served with a sweet Asian sauce. The only disappointment was that I left a few drops of that awesome sauce behind, having run out of beans and lacking the courage to use a spoon. The main course was a roasted portobello mushroom sandwich with a side of fries.
The sandwich was astounding, but let me tell you why you need to order the fries: there is a hot sauce bar. I didn't count the bottles, but if you told me for sure there were 200 I would believe you. I used a different sauce for each of the french fries and each was better than the last. It's more than a gimmick, though, it is part of what I would come to discover is an overall emphasis on the taste experience.
Although it was a lateish lunch, the place was buzzing with conversation. A couple of people were at the bar, a group of matrons were occupying the back part of the restaurant and some young ladies were sitting by the big bay windows, picking at a plate of ahi nachos; more than a few people were having margaritas. That's when I knew I wanted to return for Happy Hour. If it's busy in the mid-afternoon, I knew early evening would be a hit.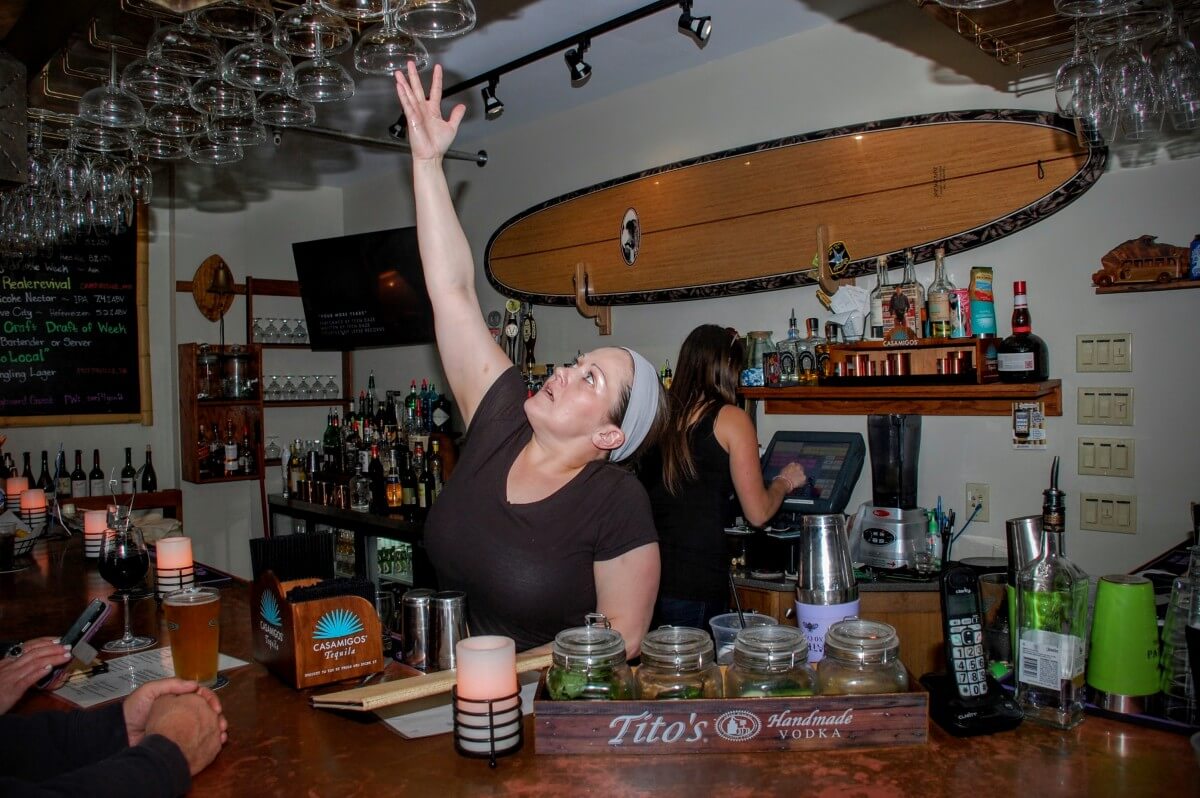 Happy Hour at the Longboard Cafe
There were two regulars keeping their own council at the Longboard Cafe bar but no one else, which was odd. I guess some days are quiet. What can you say?
The upside is that I was able to chat with some of the staff. Morgan Fagan was running the show while the boss and owner, Rich Vach was away for the afternoon. We got to talking about the food and the beers (they almost exclusively have local craft beer on draft) and she gave me the margarita rundown. It wasn't an accident that there were so many people having them the day before, the margaritas are something of a specialty there.
Morgan is fresh-faced and enthusiastic. She had an iced coffee that she sipped at as we talked. In between sips and chatter she would look over my shoulder at the door in case someone came in. When someone did she watched the nearest waitress usher them to their table. I started taking photos to go with my story and she teased Martha Redding, who was pinch-hitting behind the bar, about mugging for the camera as she mixed up another margarita.
I mentioned to Morgan that it was odd that there weren't more people in the bar, given that it was Cinco de Mayo, and she shrugged. She thought it would have been busier herself, but it was an early-season Thursday afternoon. I wandered off to take a photo of a group of ladies who had come in for an early dinner.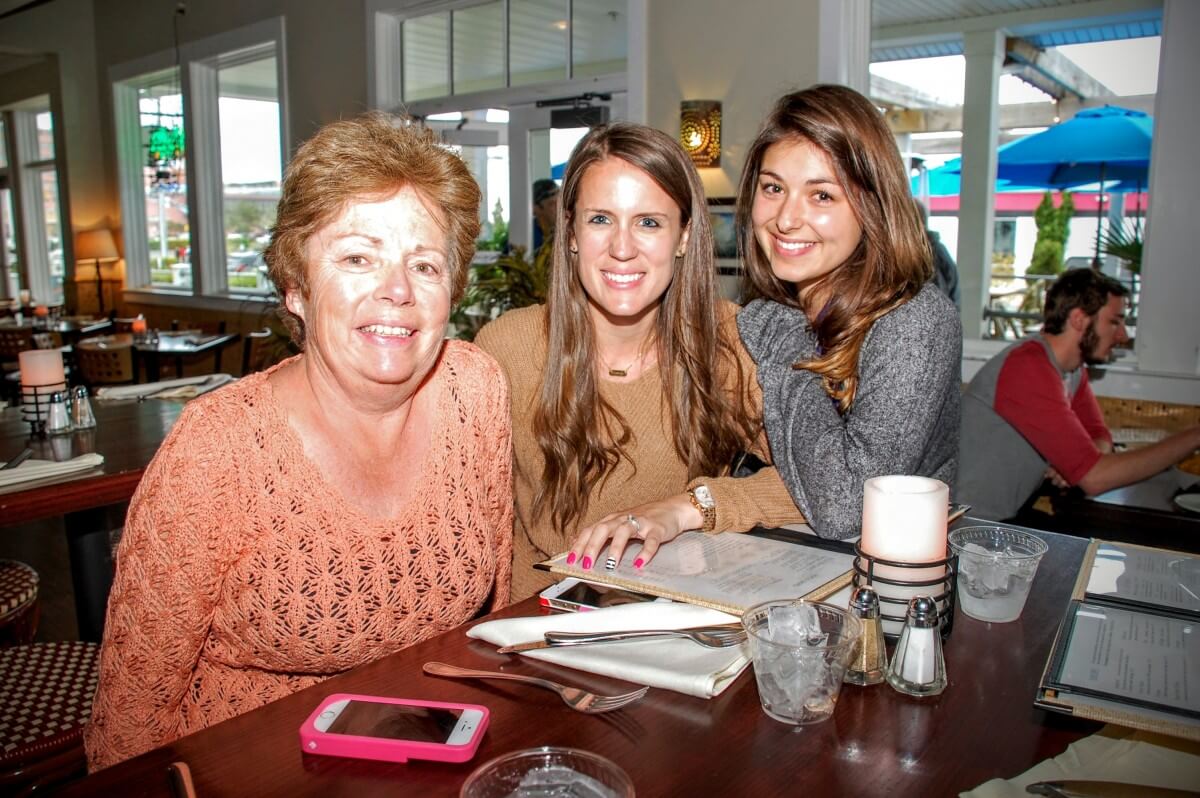 Moms and margaritas
Besides being Cinco de Mayo, it also was the Thursday before Mother's Day and Angelina Corrado joined Susan and Stefanie Riddle to celebrate. They came for the margaritas and were waiting on two Perfects and a Cucumber Jalapeno. Stefanie and Angelina were regulars and Longboard Cafe enthusiasts, always happy to stop in and sip a potent drink while snacking on whatever pleased them. While I was chatting with the ladies the bar filled up, as if people heard the call of the margarita.
Morgan had jumped behind the bar, prepping glasses for Martha who was shaking and mixing, churning out drinks to order one after the other. The staff, who had been joking with us earlier, all had snapped into action. It was a sight to behold as the already cheery servers doubled their positivity with something to do. By the time I headed back to my car, several people had spilled out onto the front deck and the place was in full swing.
Even though the deck doesn't look out over the water, it is nice to be able to sit outside and people watch while enjoying your evening.