After over four decades, the giant genie down at Trimper's Rides and Amusements has finally been let out of the bottle. One of the park's iconic funhouses – Aladdin's Lamp (Salem Aleikum) – has been permanently retired. The decision was made due to increased costs to maintain and reduced ridership.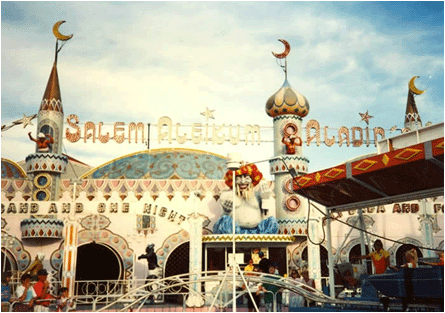 For generations, the colorful Arabian Nights-themed funhouse stood tall in the back of Trimper's Rides and Amusements while the iconic genie bowed his head from his seat atop the ride's entrance. The attraction first appeared at Trimper's Rides in the mid-1970's and is often remembered for its unique floor challenges, ramps, spinning tunnels, mazes, and psychedelic rooms–not to mention the darkness. Riders were not allowed on the attraction with open-toed shoes as a safety precaution, and visitors would have the option of walking through the "chicken exit" if they were apprehensive about their balance capabilities in the spinning tunnel. The attraction's roof, made of canvas, provided a memorable smell that visitors would look forward to year-after-year.  Now, all of these experiences will be relived only in our memories.
The Salem Aleikum funhouse series was the brainchild of German amusement designer Willi Schafer and the Aladdin's Lamp attraction made its debut in 1972 at a carnival in Cologne, Germany. Many identified Schafer as being an amusement industry leader who had many brilliant ideas and designs. An advertisement from 1971 depicts the new Salem Aleikum as featuring "many amusement effects under one roof," which indeed it did. Its massive facade was one to behold with a front that measured 90' wide, 39' deep, and 42' tall. Schafer would go on to design additional attractions while a French amusement company called Reverchon would begin manufacturing and selling his designs.  Coincidentally, Reverchon was also the manufacturer of Trimper's Himalaya ride, which is still in operation today right next to where Aladdin's Lamp once stood.  Before long, a Swiss showman named Edy Meier would premier a Salem Aleikum attraction in the United States on Casino Pier of Seaside Heights, NJ. Supposedly, that attraction was lost in 1976 due to storm damage from Hurricane Belle. Information about the origin of Trimper's Aladdin's Lamp remains largely a mystery, although it's certain that Granville Trimper negotiated its acquisition.
Tom Lokey of Baltimore, who worked at Trimper's Rides back then and ran the Wild Mouse roller coaster at the time, remembers helping to unload sea containers from France which transported the attraction in the mid 1970's. In fact, he chipped a tooth that day when a piece of the ride went astray, and he still has that chip to this day. Despite the ride being only a few years old when it landed permanently at Trimper's, it's likely that it briefly traveled the carnival circuit in Germany before it arrived in the United States.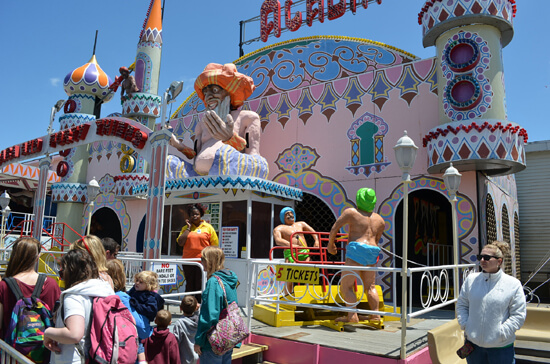 The attraction's most recent overhaul was in 2013 when its footprint was reduced by nearly half to allow room for other attractions nearby. Despite a new floor plan and layout, the Trimpers managed to retain all of the original floor traps and stunts and incorporate them into the new design. Routine refurbishment and painting of the exterior and interior took place every few years during the off-season to keep the attraction in tiptop shape.
According to a source in the Trimper family, a few of the park's rides will be shuffled around this year and the area will become home to several other exciting attractions. For now, the attraction has been dismantled and will be stored at a warehouse location while the family retains ownership (it's not for sale). It's fascinating to note that the sister attraction to Aladdin's Lamp, Grand Orient, is still in operation at Palace Playland in Old Orchard Beach, ME, according to the park's website.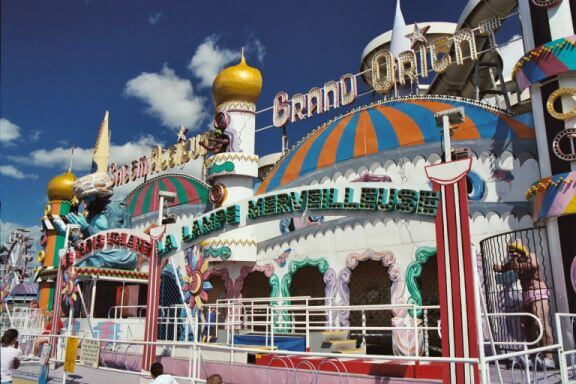 Contributions made by Monica Thrash.