Each year OceanCity.com readers vote on the best of everything in Ocean City. We also have a panel of experts around Ocean City who pick their favorites based on local experiences, which we refer to as Editor's Choice. Click here for this year's voting ~~~~~>.
Ocean City is known for being a family-friendly resort, but the town has a vibrant and exciting nightlife scene in the summer. Sometimes it just seems criminal to sit out on the beach without a Piña Colada in one hand and an orange crush in the other, and with so many bars lining the streets of Coastal Highway, it can be hard to decide where to get your drink of choice.
Read on for a list of last year's "Best Bars" winners.
You already know that Seacrets is the place to go for a good time on the sand with live music, food and a gorgeous view of the bay, but it's also the place to go when you're looking for a good drink. The Best Drink in Ocean City, in fact. Whether you're seeking out a cold beer (I recommend the Seacrets Tropicale that they brew at their distillery next door), a glass of wine, a margarita or a mixed drink, Seacrets has what you're looking for. Treat yourself to one of their specialty drinks like their house pina colada Pain in de Ass or the creamy Jamaican Bobsled, or keep it classic with a cold whiskey shandy.
Runner-up: Fish Tales
Established in 2013, the Longboard Cafe is a relatively new addition to the Best of Ocean City. Since its opening, the Cafe has shaken up the OC restaurant and bar scene and constantly impresses visitors with its delicious food, fast, friendly service, classy but casual ambience and, of course, the cocktails. Sip on a cucumber jalapeno margarita, a Bikini Martini or a frozen Lava Flow–the Longboard Cafe has no shortage of unique and exceptionally tasty drinks.
Best Bar Overall
Not only does Fish Tales have the Best Waterfront Dining, but they have the Best Bar in Ocean City, too. Seacrets was a close second (they do have the best drinks), but Fish Tales can't be beat with their quaint marina atmosphere, playground for the kids and delicious summer drinks for the grown-ups. Try a Clear Conscious Cocktail, a fruity Summertime Sipper or a Fish Tales Original like the Pretty In Pink, the signature drink of the Poor Girls Open where proceeds benefit the American Cancer Society.
Editor's choice: The Angler
While The Angler is mostly known for its seafood and party boat fishing trips, they also have a large and diverse drink selection that can be enjoyed outside or around their rustically ship-shaped bar. There's often live music, too, so you can drink one of the Angler's many brews on tap or a specialty drink (like "A Punch in the Coconuts") while jamming out and feeling that bayside breeze.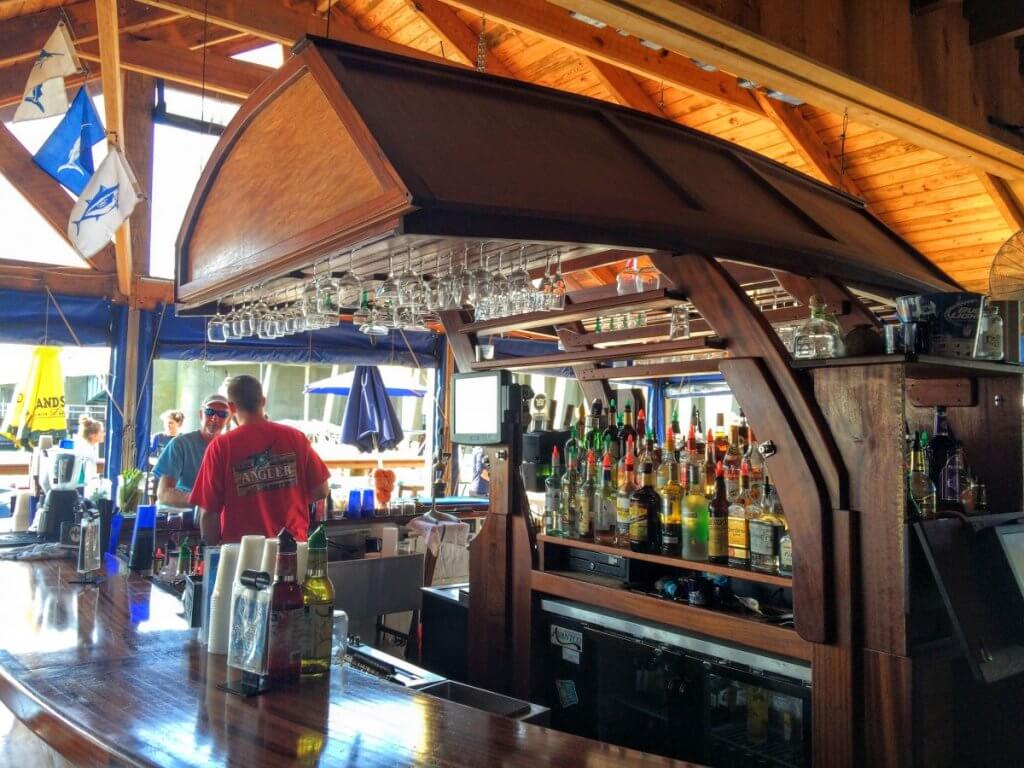 Best Happy Hour
Coconuts is a hidden gem inside the Castle in the Sand hotel, and their Best Happy Hour is every day from 5 – 6 p.m. They call it the fastest hour on the beach, and time sure does fly when the bar is offering 2 for 1 drink specials for 60 minutes out of every day. Unfortunately, your half-the-price tab doesn't equal half the hangover, but Coconuts' cocktails are worth it.
Runner-up: M.R. Ducks
What cooler place is there to spend your Happy Hour than in a 100-year-old theater-turned-restaurant and bar? Visiting the Globe requires a trip out to Berlin, but the 20-minute drive is worth the daily 3-6 p.m. Happy Hour specials. The Globe is a beautiful and historic hub for great food and displays of art, and they also host the occasional Murder Mystery Dinner, which is probably the most fun and unique way to enjoy your drink.
Best Sunset View
There are seemingly unlimited options for bayside bars in Ocean City with views of the sunset, but the view from Fager's Island is absolutely unbeatable. Grab a drink and head down the pier to their gazebo on the water, where you can watch the sky turn orange and pink as the sun goes down over the water.
Runner-up: Fish Tales
Editor's choice: Ropewalk
While the Ropewalk is pretty well-known for its family-friendly atmosphere and quality lunch and dinner fare, the 82nd street restaurant is also one of the best places to enjoy a bayside sunset. Kids can run around on the playground and grown-ups can simply stick their toes in the sand while the sky changes color before their eyes.
Best Live Music
In the summer, DJs provide dance-party ambience every night at Seacrets. One glance at their event calendar will tell you that Seacrets has music booked for months in advance, from bands like Ballyhoo! and Rebelution to themed festivals like the Yogivibez Fest.
Runner-up: Coconuts
From country to reggae, the Angler hosts some of the best local acts several nights a week and is also one of the best places for grabbing a drink and relaxing to the soothing sound of an acoustic guitar or ukulele. Like Seacrets, the Angler's entertainment calendar is always full and music lovers are always welcome to stop by.
Best Sports Bar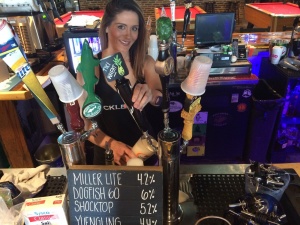 Pickles Pub is the epitome of the American sports bar. Located on 8th street right in the heart of Ocean City, you can catch the game on Pickles' high-def TVs, play a game of pool or listen to live music while sipping on whatever craft beer suits your fancy – they've got 10 rotating local craft taps and 14 beers from around the country.
Runner-up: Buxy's Salty Dog Saloon
Editor's choice: The Original Greene Turtle
As the Greene Turtle pub continues to expand to other parts of the country, Ocean City locals take pride in the fact that the original Greene Turtle first made its home in North OC over four decades ago. And it's still one of the best sports bars in town. Come to watch a game and drink a beer or just to enjoy a few of the Turtle's irresistible wings, and be sure to take home a souvenir t-shirt from the original Greene Turtle.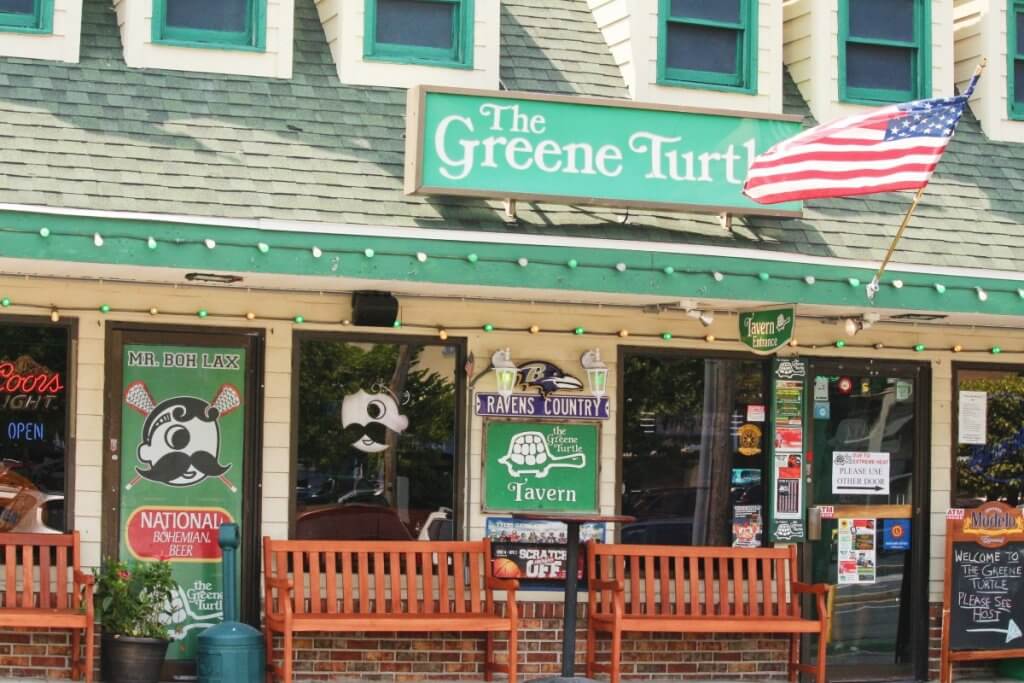 Best Craft Beer
Maybe it's their wide selection of beer that makes Ocean City Brewing Company the best in town – they've got 24+ craft beers on tap at any given moment – or maybe it's the beer they brew themselves, ranging from light to dark, seasonal or year-round, with bold flavors and a variety of hops. Either way, OC Brewing Company is any craft beer connoisseur's dream.
Runner-up: 45th Street Taphouse
Fins Ale House is built around the philosophy that every employee and customer that walks through their door is family. And when someone is family, you want to treat them to the biggest and best craft beer selection that you possibly can. Maybe that's why Fins has such a great selection, to be enjoyed with only the freshest fish and raw oysters in town, making for the perfect family dinner.
Best Brewery
If you like drinking locally, Burley Oak is as local as it gets. Their Berlin, MD taproom will serve you a beer made with sustainable materials and local ingredients, and with new beers released every month, there's always something different to try. Listen to live music at their cozy bar or buy a case of beer to take home. If you can't make the trek to Berlin, there are dozens of restaurants in the heart of Ocean City that offer Burley Oak beers, too.
Runner-up: Ocean City Brewing Company
Fin City (not to be confused with Fins Ale House, though both are exceptional in their own right) is the oldest brewery in Ocean City. They're great because they're always coming out with new releases (or reel-eases) and brew some of the best-tasting Session and Double IPAs in town. They also offer Catch of the Day IPAs, small batches made with seasonal ingredients that are only brewed once.
Best Drinks