OCEAN CITY, MD — March 27, 2023 — The public is welcome to meet the artists at Ocean City's First Friday art openings on April 7 from 5-7 p.m. at the Ocean City Center for the Arts on 94th St. bayside and two nearby satellite galleries. Admission is free. PKS Investments sponsors the complimentary reception beverages at the Arts Center.
The Thaler Gallery hosts two painters whose styles are complimentary. Artist Jonathan Nordstrom of Ocean Pines, Md. is also a federal firefighter and an author, writing and illustrating four children's books. His show, "Behind Closed Eyes," takes its inspiration from Nordstrom's dreams. "Every so often, I drift off and see the universe in motion," he said. "Surreal pointillism is a term I like to use to describe my style of painting, though some of my subjects are very real. I love using pointillism to relay the very fabric of what the universe truly is – infinite small particles working together to create matter, energy, light, and everything we love."
Sharing the Thaler Gallery is abstract painter Mary Catherine Scirè of Frederick, Md. Her show, "Lost Threads," is a collection of abstract paintings based on lost writing systems, or scripts, from antiquity. Their unique forms, although simple in nature, pull together to create complex paintings that reflect the collective diversity of these lost scripts. "My studies in archaeology and art history spurred an interest in the origins of human creativity as evidenced by the earliest cave paintings, tool-making abilities, and written forms of communication, Scirè said. "All of these remnants from the past speak to the birth of imagination."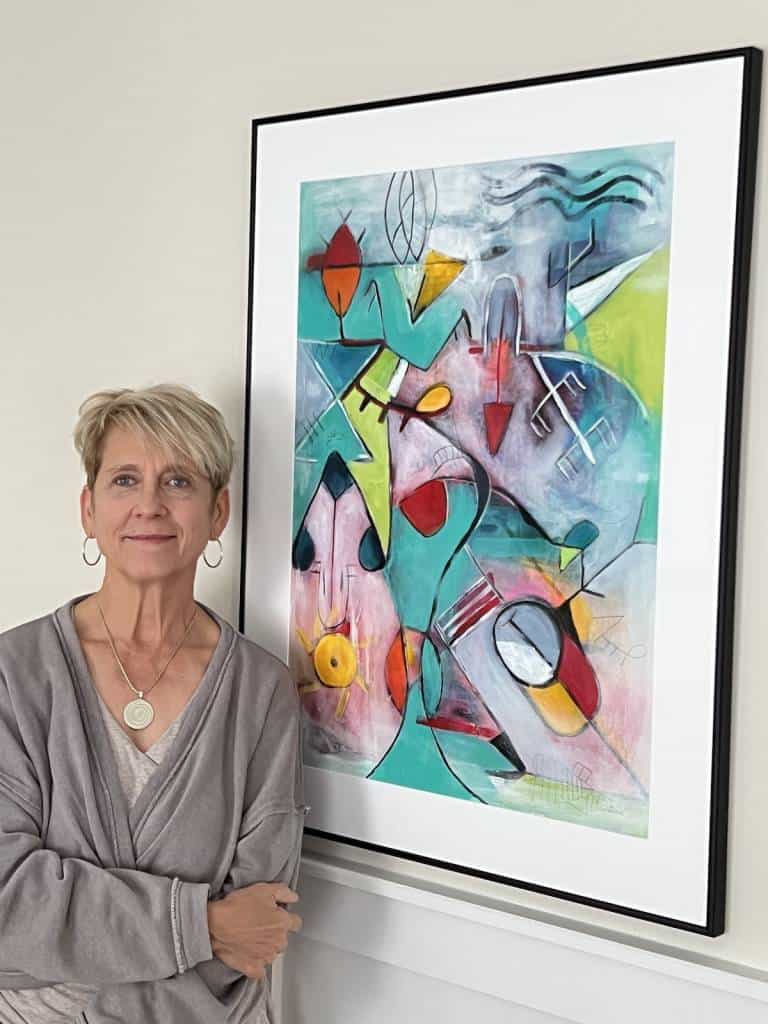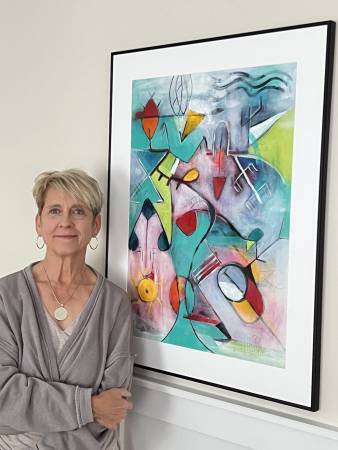 The Corporate Partner Juried Group Show, an annual exhibition to honor the corporate partners of the Art League of Ocean City, will be on display in The Galleria. The Art League receives support from more than 50 local businesses that have pledged to be corporate partners. "Our corporate partnerships are vital to keeping the Ocean City Center for the Arts up and running, and this is our way, once a year, to thank them for their support," Rina Thaler, executive director, said. Chris Harrington, chair and professor of the Department of Fine Arts at University of Maryland Eastern Shore, juried the show and selected the winners, who will receive cash prizes..
The Spotlight Gallery hosts University of Maryland Eastern Shore associate professors Elvin Hernandez and Brad Hudson and celebrates Manga and Anime styles of animation originating in Japan, characterized by stark, colorful graphics depicting fantastic or futuristic themes. The student portion of the show will open on First Friday and continue through the weekend, Apr. 8-9.
Art League developed this Manga and Anime exhibit to promote creativity among students outside formal art programs and increase community awareness of the art form. Students in middle, high school, and higher education on the Eastern Shore submitted entries judged by Hernandez and Hudson. Art League President John Sisson and Ocean City Comic Con are donating prizes to the winners.
Hernandez of Salisbury, Md., who is originally from Puerto Rico, earned his MFA in Sequential Arts from the Savannah College of Art and Design, and his EdD in Higher Education from Argosy University. He is a long-time educator and practicing freelance artist in the field of comics and commercial art, working for Toys R Us, DC Entertainment, Marvel, FX, and Cartoon Network.
Hudson of Mardela Springs, Md. has been an artist/instructor at UMES for more than 20 years and publishes his own comics under the moniker of Coldstream Studios, developing characters such as Rocket Girl and Dark Crusader. He produces work for, among others, Topps Trading Cards, including StarWars, The Walking Dead, Mars Attacks, and more.
Studio E's artist for April is Emma Matheu Bailey, an up-and-coming nature photographer from Annapolis, Md. Her passion for nature photography stems from being raised on Kent Island and learning about the importance of the Chesapeake Bay ecosystem as a child. She focuses on photographing wildlife and plants hoping to inspire people to learn about protecting nature's creatures and the environment. Bailey has photographed for the Salisbury Zoo, Brookside Gardens, and the National Aquarium of Baltimore.
Glass artist Jason Giusti is the artisan for April. A graduate of The Fulton School of Liberal Arts at Salisbury University in 2006 with a concentration in hot glass, he furthered his knowledge in glassblowing with intensive classes at The Studio of The Corning Museum of Glass in Corning, NY. His work is an exploration into the effects of layering different colors upon one another to provide depth and a sense of space. Currently Giusti works as the glass technician at the Hot Glass Studio of Salisbury University.
The Princess Royale satellite gallery, 9100 Coastal Hwy., hosts the artwork of painter Cindy Beyer of Rehoboth Beach, De. Beyer spends most of her time painting the local seascapes and landscapes, but has also traveled across the country and world to study with artists allowing unique perspectives that have translated into her work. "I am always searching for a scene that can capture an emotion or a unique situation," she said.
The Coffee Beanery satellite gallery at 94th St. and Coastal Hwy. displays the work of abstract artist Karen Hutchison of Herndon, Va. Working in acrylic paint and various mediums, she creates a diversity of styles from soft dreamy color studies to dynamic textured pieces that have a structural feel, occasionally in neutral palettes, often in a selection of compelling hues. "My goal is to engage the viewer and encourage their imagination," Hutchison said.
The Arts Center shows will be on display through April 29; the satellite galleries, through June 30. More information is available at www.artleagueofoceancity.org or by calling 410-524-9433.
The Art League of Ocean City is a non-profit organization dedicated to bringing the visual arts to the community through education, exhibits, scholarship, programs and community art projects. Funding for this event is in part provided by the Worcester County Arts Council, Maryland State Arts Council and the National Endowment of the Arts, organizations dedicated to cultivating a vibrant cultural community where the arts thrive.