While vacationers and locals alike would prefer perfect sunny beach days all-day, everyday, sometimes nature decides to thrown in a rainy day or summer storm into the mix. But do not let the weather put a damper on your mood because there are still plenty of wonderful things to do in Ocean City.
Eat! (And maybe explore new dining options)
The best and most obvious choice on any kind of day is to enjoy a nice meal, or two, or even all three. When in Maryland, you must eat Maryland style. Enjoy all the seafood you like or have a crab feast accompanied by fresh corn and local beer. There's a seemingly endless supply of options no matter what kind of cuisine you're craving, so if you're having trouble choosing, check out our most recent Best of Ocean City winners in categories including best pizza, best crabs, best breakfast and more.
Embark on a brewery tour
In Ocean City and all of the Eastern Shore in general, there are always new, cool, and delicious breweries popping up, and older ones that continue pumping out fresh and unique new brews.
Head over to one of the many breweries to take a tour and a drink for the day. In Ocean City alone you'll find world-class breweries like Fin City and Backshore, but head on over to ShoreCraftBeer.com to check out all the breweries in Ocean City and beyond.
Visit the arcades
There is still plenty to enjoy on the boardwalk when rain strikes. There are many arcades around the south end of the boardwalk where you can spend a whole day having a ton of fun, and winning some prizes while you're at it. Sportland Arcade and Marty's Playland are the classics where you can go to act like a kid again, or even bring your own. Play some Skee Ball and Air Hockey or choose your favorites to rack up your tickets and fun!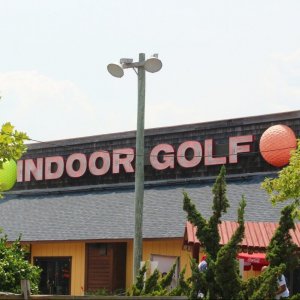 Hone your putt putt skills
Mini golf isn't an activity that's exclusive to sunny days thanks to Old Pro Golf's two indoor courses. Bring your friends or your kids and make a little competition for a fun and exciting rainy day. Head over to the two locations in OC, one on 68th street (with the giant whale), and the other on 136th street.
Catch a mid-day matinee
Movies are a classic, but essential, rainy day activity, and even at the beach it's a good idea to take a breather and watch a good movie (especially if you're sunburnt and could use a little indoor time). On 143rd St. is the Fox Sun & Surf Cinema, which offers all the newest movies and has the comfiest red leather recliner chairs for an even more relaxing and enjoyable movie experience. Grab some popcorn and candy and head over to catch a film.
Go bowling
Ocean Lanes, Ocean City's bowling alley, is another go to rainy day choice for all ages. Head up to 72nd street for a good day of bowling and a little competition along with food and drinks for your rainy day.
Partake in some retail therapy
Nothing makes a rainy day better than doing a bit of shopping and there are plenty of options in and around Ocean City. Check out local shops like Ragamuffin, Sea Quest, or Southmoon Under or head over to Tanger Outlets in West Ocean City. And for the surfers, or those who want a beach vibe, head to some surf shops like K-Coast, Chauncey's, and Malibu's. A little bit of shopping never hurt anyone, especially on a rainy day.