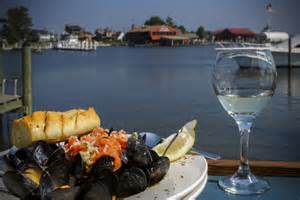 St. Michaels is the epitome of a postcard-worthy seaside town, and it is only a short distance from the Ocean City beaches, making it the perfect target for a day trip. With its rich history of hard-working oystermen, long standing traditions of sailing and boatbuilding, and a picturesque location on the Miles River, there is truly something for everyone to appreciate here. If you are looking to get a taste of what St. Michaels has to offer but only have one full day, I've got you covered! Rain or shine, you will have a great time following this detailed itinerary centered on quaint Talbot St.
Arrive in town before 9 am in time for an amazing breakfast at Crepes by the Bay. Here you will find both savory and sweet options, perfect for a filling breakfast before you start exploring. Check for today's specials as they are always amazing – I suggest splitting a savory and a sweet with a companion so you can have the best of both worlds!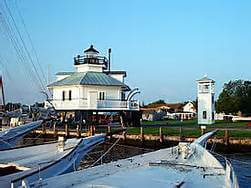 After breakfast, head to the Chesapeake Bay Maritime Museum and the Hooper Strait Lighthouse to learn about the history of Maryland life on the Bay, shipbuilding, oystering, and more. The lighthouse is set up to show what it looks like inside and is a very accurate insight into the spartan and often lonely life of the keeper of the light. Climb the lighthouse for great photo ops of the waterfront! Walk the grounds, watch apprentices at work learning the arts of shipbuilding and sailmaking, and admire the many detailed exhibits. If you like what you see, come for a visit in June during the St. Michaels Antique and Classic Boat Festival where you can see stunningly restored wooden hulled classics, vintage race boats, and other antique and Chesapeake Bay-related boats.
All that exploring has likely made you hungry, right? Make a beeline to the cheerful green awning of Bistro St. Michael's where you will find freshly prepared lunch choices for even the most demanding diets, including vegan and gluten free. Try an Eastern Shore specialty such as the Oyster Pie or the cream of crab soup – you can thank me later!
After lunch, stroll Talbot St and indulge in some serious retail therapy with a nautical edge. Here you will find everything from unique, delicately handcrafted jewelry at SilvaWear to antiques at Gatsby's, as well as lots of fun home décor shops such as The Preppy Redneck, Take Me Home, and American/Holiday. If local art is something you seek out, ask for Stan at The Candleberry Shoppe. He owns this unique store filled with lots of local artwork, children's items and custom signs. You can even find an amazing selection of imported Italian foods, wines, pottery and gifts at Sympatico, and if you're lucky, you may even stop by during a wine or olive oil tasting!
Regardless of what you like to drink, there's always a great spot for you to check out in St. Michaels. If you are a craft beer lover, head to the tasting room at Eastern Shore Brewing and try one of their flights as you enjoy a friendly game of cornhole or listen to the live music from 4-6 on Saturdays.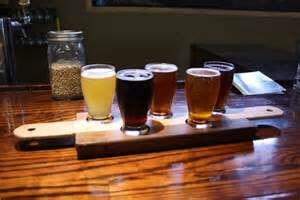 Wine more your style? Try St. Michaels Winery for a wide selection of locally made wines and fun accessories. Flights are also available and bottles are reasonably priced. By the way, St. Michaels hosts an incredibly popular Winefest every April in case you are planning a repeat visit!
Perhaps you are more of a hard liquor connoisseur? You are in luck as this town is also home to the Lyon Distilling Company, offering distillery tours (2 and 4 pm) and FREE rum tastings on the weekends. Mixed drinks featuring their white and dark rums are also available at their tasting room, and their products are available for sale both at the distillery and local sprit shops.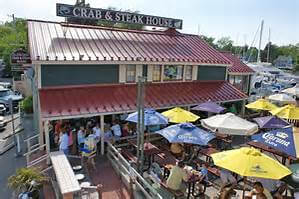 End your busy day in St. Michaels at a seafood restaurant with outdoor waterfront seating, such as the Town Dock or St. Michael's Crab and Steak House. Ask for a table by the water and enjoy the view as you relax and unwind. There's nothing like the fresh salt air, evening sunset, and fresh Maryland seafood to cap a fun-filled day trip. Thanks for joining me, and have a safe trip home!