The Ocean City Beach Patrol begins its work Labor Day Weekend
This summer is an especially exciting time for the Beach Patrol. We opened this season out of the new Beach Patrol main headquarters building. Although it was finished as we ended last season, this is our first summer that we are fully operational out of the new building. We are proud to be a fitting landmark as people enter the downtown area. This will surely be a summer to remember.
Another source of excitement is the anticipation of the 8,000,000 people that will visit Ocean City this summer. Sun worshipers, graduates, boogie boarders, surfers and just about anyone that wants to get away for a great vacation will be arriving. Most beach goers will have an enjoyable and relaxing time. But, if something goes wrong on the beach or in the ocean, you know who is there to help. Ocean City employees over 200 Surf Rescue Technicians (SRT = lifeguard) that man stands over 10 miles of beach. Our Surf Rescue Technicians are the fastest, bravest, best trained lifeguards in the world making thousands of rescues each summer. At the beach when there is an emergency, seconds count and you can count on your Surf Rescue Technician to be there when and where you need them.
For the best chance of survival, you need someone on the beach who is well trained and can see the dangers develop: someone who can prevent accidents before they happen and respond instantly if they occur. Did you know that ninety five percent of a good lifeguard's work is preventative and their most important skill is scanning? Yes, scanning is a skill and our guards are trained to continuously look for potential problems.
Our guards are prepared and eager to fulfill our three-part mission: education, prevention and intervention. This mission guides our organization.
As an educator in Charles County Public Schools and the Beach Patrol's Public Education Coordinator, I know the importance of the first part of our mission. Education is not only one of the best gifts you can give someone but it is also incredibly empowering. Ocean City Today has been a valuable asset for us in helping to achieve the educational part of our mission. Understanding the dangers that our ocean presents, allows a person to make decisions to keep themselves and their family safe while vacationing in Ocean City. I can't tell you how many times someone has shared with me that they really just had no idea about certain safety messages. Each week I will continue to share some of the most important things to remember in order to make your stay safe and enjoyable.
Feet in the sand
With that being said, let me remind you of one of our most important messages; "Keep your feet in the sand until the lifeguards in the stand!" The ocean is unpredictable and statistics show that most of the drownings in the world occur during a time when lifeguards are not on duty. In Ocean City Maryland 99% of all drownings that have occurred in the near 80 years of the Beach Patrol, have occurred when guards were not on duty.
You might also be interested to know the statistics of a typical summer season for the OCBP as we fulfill our mission:
• Returning Lost and Found Individuals (1,000 – 2,000)
• Minor First Aids (1,500 – 2,500)
• Medical Emergencies with EMS (100 – 200)
• Head/Neck/Spinal responses (80 – 100)
• Police assists (75 –125)
• USCG / DNRP assists (10 – 25)
• Preventative actions in water (75,000 – 150,000)
• Surf Rescues (2,000 – 4,000)
Although we are dedicated to guarding and maintaining safety along Ocean City's beaches seven days a week from 10 a.m. to 5:30 p.m., this is not our only role. We pride ourselves with another important role and that is to be ambassadors for the Town of Ocean City. As some of the most visible Town employees, our unofficial role as an Ocean City ambassador is something we take pride in. Members of the beach patrol are motivated, competent, professional assets to the Town of Ocean City. While each of us brings a great deal of positive attributes to the Town, being a part of this great organization allows each of us to receive even more in return.
Keeping visitors safe
The Town continues to do a great job of attracting visitors with major entertainment venues such as Springfest, the OC Air Show and the newly expanded Performing Arts Center as a draw to get people to make Ocean City their vacation destination. The Ocean City Recreation Department continues to provide free family entertainment six days a week to enable families to have a fun evening while not having to spend a lot of extra money. .
Many people will be attracted to visit and vacation in Ocean City this summer. What people experience once they are here will likely determine if they return for another event or a vacation. This is why the Beach Patrol feels it is our job to make a difference in every visitor's experience. We are first and foremost concerned about safety on the beach and in the ocean, and secondly we are continuously aware of how we as beach patrol members conduct ourselves when we interact with those we meet on the beach or anywhere in the town.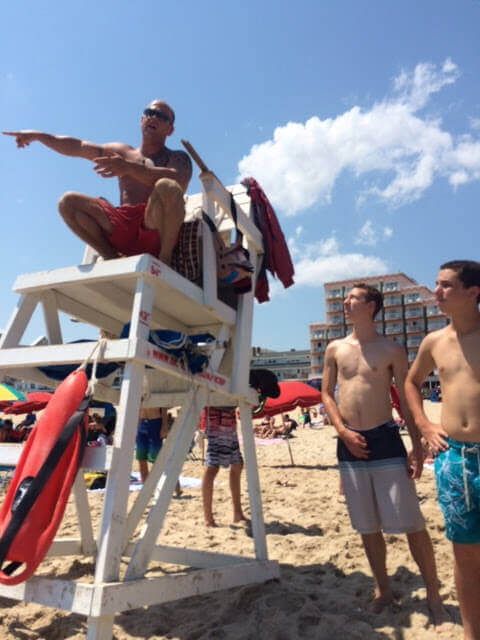 While we exist to provide a public safety service, when we take the extra steps to make someone feel welcomed, we become more than just employees of the beach patrol and the Town of Ocean City, we become a lasting part of their Ocean City experience.
We often say, "A lifeguard has hours of boredom and moments of trauma." Most of the time they are scanning/watching and waiting to be called into action. This happens over 90 percent of most days. You will often find a lifeguard talking to the public and educating them about beach conditions for the day, but it is not uncommon to find that same lifeguard sharing their favorite place to eat or relax.
Ocean City is a vacation destination and we are in competition for the continued loyalty of our visitors. We will continue to do our part as surf rescue technicians and as ambassadors for the Town of Ocean City. To get current information about the beach patrol, beach safety, as well as daily stats and current beach conditions, you can follow us on Twitter, Instagram or "like us" on our Official OCBP Facebook page. We'll never know how many lives have already been saved by the lifeguards' vigilance. But you can help and do your part by reading our safety advice each week and sharing the information with others. We also encourage you to check in with the lifeguard each time you visit to learn about current conditions. Each day they write a beach or ocean tip on the back of their stand. We can't wait to be a part of your wonderful experiences in Ocean City, and always remember to "Keep your feet in the sand until the lifeguard's in the stand!"