"Keep your feet in the sand until the lifeguard's in the stand!" This is our trademark slogan that you will see many places throughout Ocean City. It's not just a catchy phrase that you can see on the Seaboard Boat, on back of lifeguard stands and on many other signs throughout Ocean City. It is, in fact, a helpful reminder that swimming in unguarded water is never a good idea. A sad statistic from Ocean City is that 98 percent of all drowning deaths in the past 80 years have occurred when the Beach Patrol was not on duty.
Although this advice applies to pools, it is even more important when swimming in open water such as lakes, rivers and oceans, which have uneven bottoms, changing currents and sudden drop-offs and changes in depth. These factors make RIP currents the third leading cause of weather-related death, according to the National Weather Service (NOAA), ahead of both tornados and Hurricanes.

A common sense solution
I have noticed that people tend to leave their cares, concerns and common sense behind them when they come to the beach. No one can blame them. Vacationers have worked hard and they simply want to enjoy their time by the ocean. Most people believe that nothing bad is going to happen while they are on vacation and that they will never be the unfortunate victim of an accident or injury while enjoying a day at the beach. The possibility of a tragedy occurring with a loved one is the furthest thing from their mind when they choose to go swimming without a lifeguard.
This fact unfortunately came true again last summer when a family chose to allow their seven year old girl to go swimming at 7 p.m. after the Beach Patrol had long gone off duty and cleared the water of all swimmers. Caught in a RIP current, the little girl was pulled into deep water and drowned as others watched helplessly.
However, it is important to remember that the ocean is not just a fun place to spend a vacation, it is a natural, ever-changing dynamic environment, and, like all natural phenomena, if it is not treated respectfully it can be deadly. There are sad stories about people who have lost their lives because they chose to swim when life guards were not on duty. Even experienced swimmers and surfers have lost their lives swimming alone with no one to help them when things go wrong. Lifeguards and people dedicated to water/beach safety feel frustrated by these stories. There is no need for anyone to lose a family member on vacation. It is a tragedy that could be easily avoided.
The best reason to always swim near a lifeguard
The ocean is constantly moving and changing. To the untrained eye it can look calm and safe, but currents on the calmest day can still be dangerous. Do not hesitate abo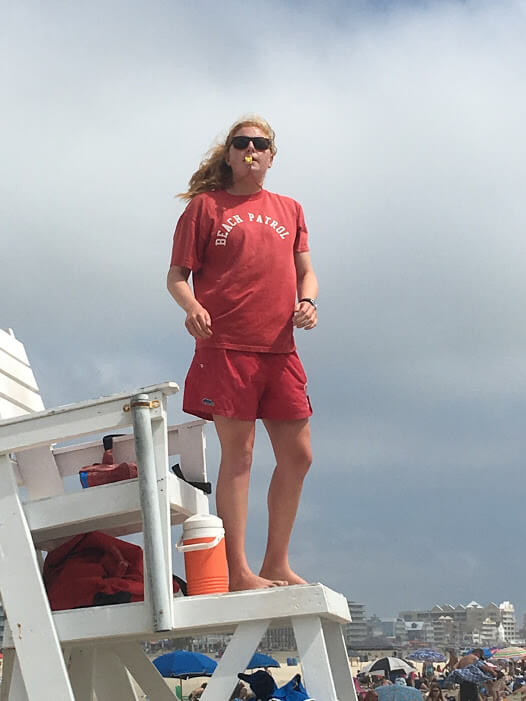 ut approaching the lifeguard and asking about water conditions. They enjoy answering questions and educating beach patrons. Every member of the beach patrol is fully tested and certified before they ever have the privilege of guarding you, your family and friends. Their job is to recognize the danger and educate beach patrons about it. If you hear them blow their whistle, look and see with whom they might be trying to communicate. It could be you.
The lifeguards will use their flags to direct you out of harms way. Often during the summer we see a lot of wildlife activity out in the ocean. There could be whale sightings and very often, dolphins traveling close to shore. Although these creatures aren't normally harmful to humans, it's safer to simply move out of their way and let them pass. Lifeguards have a better view of what is going on from their guard stand and will move you away from the less dangerous occurrences such as these and the more dangerous situations such as rip currents.
The Beach Patrol also enforces rules, ordinances and regulations that I am sure some of you find bothersome, but each regulation has been put in place for a reason. The Beach Patrol is responsible for maintaining a safe, secure and enjoyable environment for all of our visitors and ensuring that they may enjoy their vacation time. Please remember that if the lifeguard asks you to play ball at the back of the beach, fill in a hole, or move an umbrella out of their line of sight, they are doing this to ensure that everyone has a safe and enjoyable beach experience and can return for many more.
We hope you enjoy your time here in Ocean City. To help us keep you safe always check in with the lifeguard on the stand and never go in the ocean if the beach patrol is not on duty. This is so important to each lifeguard that they will clear the ocean of all swimmers before leaving their beach at 5:30. Follow the directions of the lifeguards and never underestimate the incredible power of the ocean. Remember our slogan and pass it on to family, friends or anyone whose life you value: "Keep your feet in the sand until the lifeguard's in the stand!"