Alyosha and OC Bay Hopper 2020 Boat Trips
New Plans and Opportunities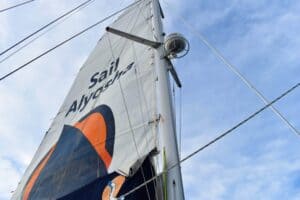 "It is going to be different, that's for sure," according to Stephen Butz, owner of two of Ocean City's newest attractions: Sail Alyosha and the OC Bay Hopper. "When we are able to start operating we will need to have less people on board, as a result of Covid-19."
Sail Alyosha and OC Bay Hopper do intend to be back this summer, and there are several new experiences that the Blue Bimini team has developed over the winter that will appeal to Ocean City tourists looking for something different to do after their day on the beach.
New Boat Trip Offerings
Family pizza cruises, moonlight cruises and further emphasis on highlighting birthdays and anniversaries top the list. "We had so many couples on Alyosha celebrating life milestones that we wanted to make sure we could make those experiences even more memorable." says Butz. Couples will be able to hoist flags signifying their anniversary, complete with nautical numbers representing the years they have ticked off. A similar plan is in place for birthday celebrations. Alyosha is the 50 foot catamaran seen cruising up and down the Ocean City coast last year. Standard trips are generally just under three hours in duration and almost always include a chance to experience the thrill of sailing: moving quickly through the water powered only by the wind.
Also new this year will be a chance to experience one of Steve's favorite things about sailing: traveling by moonlight! "On long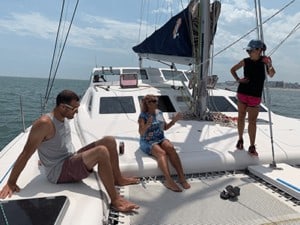 passages across the oceans, you develop a significant relationship with the moon," explains Butz, who recently completed a circumnavigation. "We want to give people that incredible experience right off the coastline of Ocean City." These exclusive trips will only be available 5-6 nights over the course of the summer- and only if the conditions are nearly perfect.
On the OC Bay Hopper, the Blue Bimini team (Steve's brother Dave, Jeff Mason, Adam Douglass) will continue to run their
morning crabbing trips for families, tours of Assateague Island originating from their headquarters on 117th street ("the Kiosk") and the hit of last summer: afternoon Ice Cream Cruises. "We are going to focus on making sure we preserve the experience of being out on the water while making sure we follow all social distancing guidelines," says David Butz, who often captains the OC Bay Hopper. "We have developed a very unique way of ensuring our guests safety- we will divide our boats into "zones"- featuring vinyl shields- to allow for customers to feel safe." This new zone pricing is expected to last only until the Covid-19 crisis is over.
OC Bay Hopper will continue to operate as an "on demand" water taxi service, but plans to continue building out a shuttle service, operating regularly and moving people along the inlet by water, could be challenged. "The numbers just aren't there," says David. "We are going to have to be innovative and this may be a summer where we focus on the simple things like getting families out on the bay."
Those simple things include plans to allow families to book the boat for dinner cruises- featuring pizza from some of OC's iconic restaurants. Families will be able to get out of their rental units for a change of scenery, without braving what is sure to be a challenging eatery situation as bars and restaurants cope with Covid-19 realities.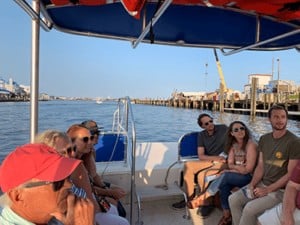 Even the very popular "Shore Craft Beer Tours"- featuring local breweries as guests take in fantastic sunsets on the bay- will be affected. "I think we are going to end up making these outings a bit more exclusive, taking at most 8 people so that proper social distance can be maintained." Butz continues, "Our real hope is that we can get back to more regular operations in 2021. We are not giving up on this summer, there are plenty of great experiences out on the water to be had, but we need to be very realistic about how this is going to work."