With the holiday weekend approaching, there are some tough decisions to be made as you walk along the boardwalk: Do you want to sit down and enjoy lunch, or grab something quick from a stand? Carmel corn or candy? If you can only stop and have one beer, where should it be? We certainly have our own opinions, but they can be biased or get skewed all the time. The Best of the Boardwalk, however, is a different animal altogether. It's voted on by the more than 160,000 people who visit our site as well as our city. They know what they like and why they like it, which is why they're happy to share their knowledge.
What follows are their picks for the best things to do on the Boardwalk. If you don't agree, you can vote for the Best of Ocean City yourself. Vote every day if you like, depending upon how strongly you agree with the following (which was accurate as of Sept. 1, 2016).
The Candy Kitchen is the best place to stop for sweets on the Boardwalk
Candy can be a divisive issue on the Boardwalk because sometimes the kids want something brighter, sweeter and sugarier and the grownups want something rich. It isn't clear whether the Candy Kitchen's dominance comes from selection or location, location, location (location, location, location…) but there you have it.
If you miss Pizza Boy, you miss the best Boardwalk pizza
Some people say Tony's is the best, but not enough. Pizza Boy is running away with this category, feel free to tell us why in the comments. Dough Rollers is a distant third for reasons as incomprehensible to them as it is to their voters (who always could vote again, if that is where their conscience lies). I couldn't think up an appropriate pun for how far behind Piezano's is in the polling except to say they're topping Caruso's. In other news, writing puns is the leading cause of deserved carpal tunnel syndrome.
The Purple Moose is the place to be on the Boardwalk
Stopping off for a beer, or grabbing a cold one to get out of the sun is one of the truly great Ocean City Boardwalk experiences. Bars that are dark and cold provide a great contrast after a morning of sun, sand and surf. The Purple Moose, according to you guys, is the height of Boardwalk Bardom, although Shenanigan's and Brass Balls are a close second and third.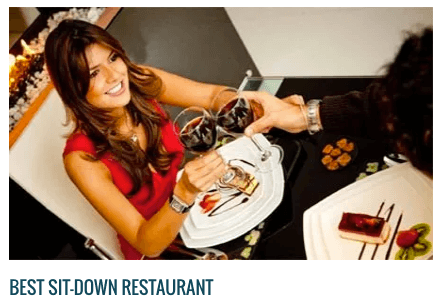 Harrison's Harbor Watch is the best place to have a meal on the Boardwalk
It isn't really a shock that Harrison's Harbor Watch is in the lead because of its view, but other restaurants that have Boardwalk seating are worth supporting as well. People who like Shenanigan's, for example, are kind of fanatic about it which is why it is a surprise they're trailing by so much. And don't get me started on Bull on the Beach.
The Alaska Stand is the best place to grab a snack on the Boardwalk
Stands, in the general sense, are at least as important as rides, games of chance and hilariously tacky tee shirt shops in making the Boardwalk experience complete. They fry and freeze and dip things to eat while you're strolling, but they also can cook up something quick if you've seen one too many "No Shirt, No Shoes" signs and wanna just have lunch. The Alaska Stand is the superior place to have that experience, according to the readers. That means according to you. That means if you don't agree, you've gotta vote to change it or live with the consequences of your decision.
The Kite Loft puts the T-Shirt Factory to shame, shop-wise
There are a million different kinds of shops on the Boardwalk in Ocean City. OK, there really just are toys, accessories, apparel and kooky (i.e. henna tattoos or spray painted hats or rice writing or whatever). The Kite Loft not only traditionally wins this slot, but they also often are in the running for Top Ten vote getters annually. If this is cool with you, do nothing. But if you don't want to live in a world where Quiet Storm is seen as inferior to the Kite Loft, there's a way to fix it.
Think Fishers is always better than Dolle's? So do most people
Carmel corn is one of those things you either care deeply about or don't. The people who consistently vote for Fisher's over Dolle's in the popcorn category obviously really really care about Fisher's. Dolle's leaves something of a mark on the people who visit but for some reason hasn't gotten the same traction with the Ocean City enthusiasts. This is the year that might change, if you want it to. If you're among those people who can't understand why Dolle's isn't getting the recognition it deserves, don't just vote, vote every day. Set an alarm or a Google Alert about Dolle's. Share the love.