(In no particular order, because it was hard enough just to pick 10!)
We'll start this list with the hotel at the verrry end of the Boardwalk: Dunes Manor.
You might not expect that the Dunes has only been around since the '80s, especially since the building looks like a castle straight out of the 19th century, but Dunes Manor is an iconic part of the Ocean City skyline that first opened its doors in 1987.
The Dunes is a great place for Ocean City visitors who want to do more on their trip than relax on the beach and walk up and down the boards–although its proximity to both of those things allows visitors to do that, too. There are always events happening right at the hotel, plus Afternoon Tea every every day in the lobby and three lounges for drinking and dining (whether you want a quick bite or an ice cold crush, all the options at The Victorian Room, the Zippy Lewis Lounge and the Barefoot Beach Bar provide a little something for everyone).
Basically, if you want to take advantage of hotel events and happenings while also feeling like you're sleeping in a giant sandcastle, the Dunes Manor might be for you.
If you know where Shenanigan's is, then you know where the Shoreham is–right upstairs. And if you don't know where Shenanigan's is, it's in the middle of all the Boardwalk action on 4th street where St. Patrick's Day is a year-round affair.
The Shoreham's location allows guests to experience all the fun of being right on the Boardwalk, overlooking the beach and all the crowds below, without having to stay in a big chain hotel. Plus, there's always delicious food, drinks and the occasional live music just downstairs.
If you're into historical joints that seem as old as the Town of Ocean City itself, and don't mind the possibility of a few ghosts sharing your room, than the Shoreham might just be the perfect hotel for you. If not… forget I said anything. Ghosts aren't real!
The Plim Plaza might be best known for its Caribbean Pool Bar, where you can take a dip, enjoy a tropical drink with your sandwich and fries and enjoy live entertainment, all in one place. You'll really feel like you're in the Caribbean until you walk down to the Boardwalk and remember you're still in Ocean City.
Plim Plaza is just above the Paul Revere Smorgasboard, Mug & Mallet and A Latte Enjoy, so whether it's carved meat, crabs or coffee you crave, you won't have to go far. The hotel also offers an Olympic-length swimming pool, Jacuzzis and a beautiful view of the ocean. What more could you ask for?
One of the greatest features of the Grand is right in its name: their on-site spa offers massages, facials, manicures and pedicures and even more ways to feel pampered and relaxed while on the beach. When the Boardwalk gets a little hectic, a calming massage makes for one good stress reliever.
The Grand Hotel also features an indoor and outdoor pool, a fitness center, a game room and guest laundry. And there are five dining options on-site (six, if you count coffee): The Grand Terrace Cafe, EPIC Bar & Grille (with karaoke!), Buono Vita Pizzeria, Java Beach Cafe, Blue Palama Pool Bar and Scoops Ice Cream Shop are all just a few steps away.
Even if you've never stayed at the Grand, you might have attended one of the many events or conferences that have been hosted by the hotel–they were even the site of Ocean City's first Comic Con back in December. If you're scouting locations for a big event or just looking for somewhere relaxing to stay, the Grand makes one grand option.
The Park Place should be one of the best Boardwalk hotels–after all, the family who owns the hotel have been providing hospitality in Ocean City for over 125 years.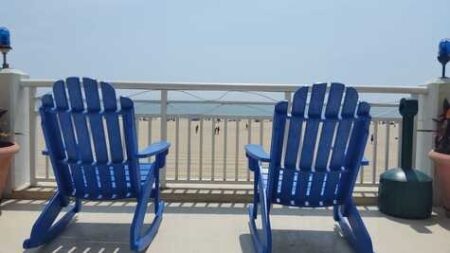 At the Park Place, guests can hang out at the pool deck, where there are two heated pools to swim in, or grab a classic open pit beef sandwich downstairs at Bull on the Beach. Or both–just be sure to wait 30 minutes if you plan on eating first.
The Park Place is currently finishing up a year-long renovation, where they've added their second pool and a larger pool deck, a seventh floor of guest rooms, new elevators and five bay view suites. In 2018, Park Place will be back and better than ever.
The Flagship is another hotel that sits on the tail end of the Boardwalk, where you can easily access the three miles of shops and entertainment but sit back a bit from all the endless activity on the Boardwalk's south end.
Amenities at the Flagship Hotel include an oceanfront pool bar, an indoor pool, a fitness room and tanning bed, live entertainment on Saturdays during high season and all-you-can-eat seafood at Jonah and the Whale. Plus, no one else makes waking up early so easy: they offer a complimentary morning newspaper, fruit, coffee, tea and hot chocolate.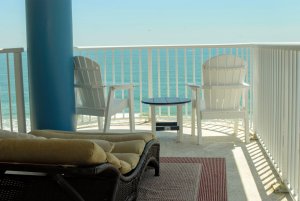 The Commander on 14th street makes a nice mid-Boardwalk getaway for anyone, but they also cater to niche groups of vacationers like golfers, with their Golf Concierge service, and Jeep Drivers, offering big Jeep Week discounts.
While the hotel has been family owned since 1930, their accommodations are newly renovated. With options from oceanfront suite to oceanview studio to cabana suites just steps away from the pool and the beach, the Commander has something for everyone. Especially if you're a fan of two of the biggest casual dining staples on the Shore: Grotto Pizza and Fractured Prune, both on-site.
For those who prefer motels, the Seabonay is a beautiful art deco-style option that's just one block away from the Boardwalk (we decided that counts it as a Boardwalk motel).
The Seabonay offers a guarded beach with umbrella and chair rentals available, an outdoor pool and custom packages available for golfers. With big windows looking out onto the beach, you'll want to book an oceanfront view to take in the incredible views that the Seabonay has to offer.
When you think of Ocean City, your mind probably doesn't immediately jump to "safari!" Unless, of course, you've stayed at the 13th street Safari Motel. From the Boardwalk, the Safari is instantly recognizable by the big gorilla that sits on the 2nd floor balcony, watching over its guests on the beach and looking only a little out of place on a Maryland Boardwalk.
Your pets are welcome on the Safari, and so are graduating high school seniors. Look out at the ocean from one of their big common balconies, and enjoy the motel's newly renovated rooms featuring new furniture and flat screen TVs.
The Hyatt Place on 16th Street and the Boardwalk was opened in 2018. Every room in the hotel has a balcony, and each room is fitted with modern amenities like state-of-the-art workplaces and a Cozy Corner with sofa-sleeper. Cool down in one of the two pools, or work out in their 24-hour StayFit Gym featuring cardio equipment with LCD touchscreens.  Breakfast is served every day with cage-free eggs, steel-cut oatmeal, whole fruit, all-natural bacon and sausage, and more, and the hotel bar is the perfect spot to relax with a cocktail and freshly prepared bar bites and shareables, in the evening.  The Gallery Market is great for grab-and-go salads, snacks, and bottled beverages. The hotel is also home to Franco's Pizza & Bar, and many long timers will remember the original Franco's was in this exact sam location many years ago.