The Ocean City Council voted unanimously Tuesday to suspend the Boardwalk tram service for the remainder of the 2020 season. This comes after the Ocean City Transportation Committee voted to recommend the suspension during their meeting on July 7th.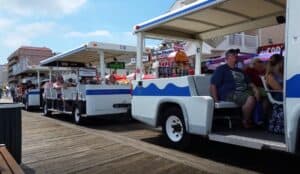 The debate over whether the tram would hit the boards has persisted throughout the summer. As many restrictions were lifted across the state, town officials continued to hold off on making a final decision due to coronavirus concerns. Now, with an uptick in cases proving that the fight against COVID-19 is all but over, the Ocean City Mayor and Council have decided that the tram must remain shut down.  
When kicking off the tram discussion, Mayor Rick Meehan cited several concerns that would arise if the service were to resume operations, including the feasibility of social distancing and the enforcement of masks. The mayor added that if the number of people allowed to ride the tram was reduced, families may be separated, which would cause an additional string of problems.  
Councilmember John Gehrig said the major concern is having tram drivers be responsible for enforcing mask regulations. He said, "I'm generally in favor of running the trams… My biggest concern is having our tram drivers enforcing masks… Some people are very compliant and other people consider it an attack on their liberty and have taken it to another level. I just don't know if I want to put our tram personnel in the face of hostile people who refuse to participate and wear a mask."  
Council President Lloyd Martin and Council Secretary Mary Knight also discussed the difficulties of enforcing mask regulations and concluded that imposing this burden on tram drivers is simply unfair and impossible.   

This decision does not come without a cost. If the tram were able to operate this summer, it would have brought in an estimated $600,000. To offset the losses, town officials are hoping to receive federal grants, however, they do not currently have information on how much funding the town is eligible for.