It's summertime in Ocean City, but more than that, it's finally the season you've waited all year for: crab eatin' season. What says summer at the beach more than a big pile of crabs on a picnic table? Whether it's the thrill of the pick or the Old Bay-doused meat that gets you craving crabs, you know that your cravings can be satisfied in OC, where there are over a dozen crab houses to choose from. This guide will help you narrow down your selection, and if you're a crab picking novice, don't worry – we've got a video that'll teach you the secrets of the crab masters. Just stay away from the lungs (you'll have to trust me on that one. From experience).
Almost all of these restaurants, when searched online, fall within the "$$-$$$" price range – which is pretty vague, but due at least in part to the competitive crab market prices. Links to online menus are included so you can know-before-you-go and budget for the seafood feast of a lifetime. Get pickin'!
The Shrimp Boat
9724 Stephen Decatur Hwy, Ocean City, MD 21842 • (410) 213-0448 • ShrimpBoatOC.com• Menu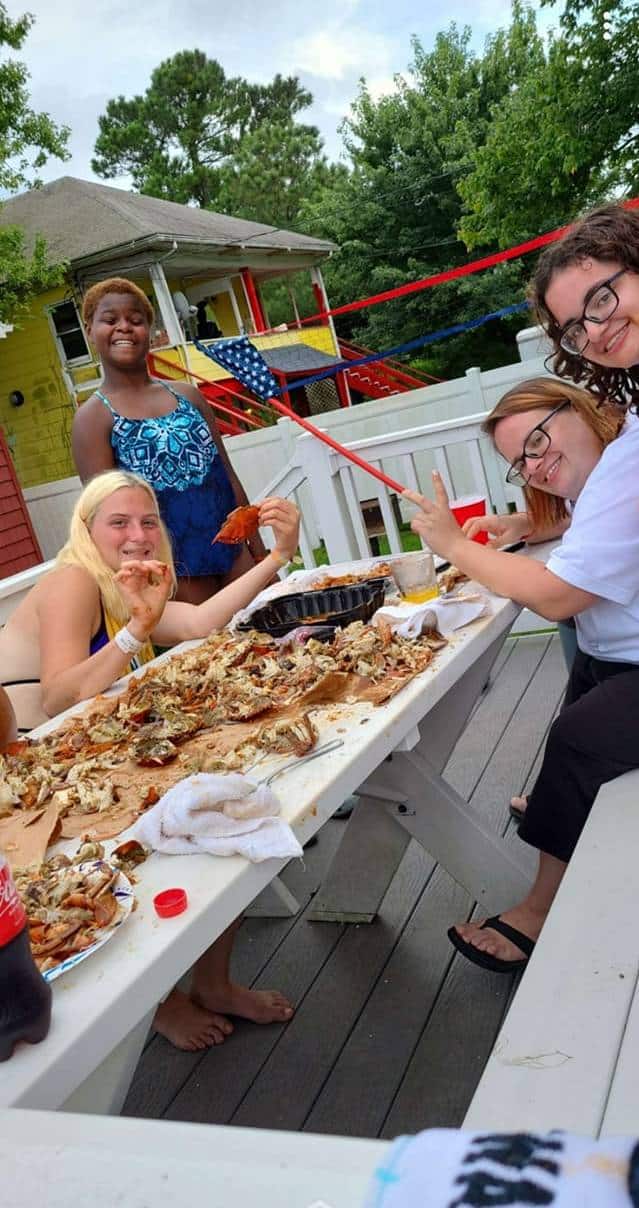 The Shrimp Boat in West Ocean City is a casual place with fabulous food and fresh seafood which you can buy to take home or you can eat in the restaurant. The Shrimp Boat is known for their shrimp, but their crabs are fabulous and having a good ole Eastern Shore crab feast is one of their specialties. The Shrimp Boat delivers too so if you want somebody else to take all the work out of your seafood extravaganza, call the Shrimp Boat for a wonderful meal. They also have a great happy hour and lots of local craft beer.
2305 Philadelphia Ave, Ocean City, MD 21842 • (410) 289-3322 • BluCrabHouse.com • Menu
One of the newer crab houses in town, BLU offers a view of the bay, a rotating oyster selection at the raw bar and an ever-changing selection of craft beer specials. They offer a traditional seafood menu as well as "twists" on the traditional fare with special ingredients and seasonings. BLU is open daily at noon and is a go-to for getting plenty of bang for your buck.
12913 Ocean Gateway, Ocean City, MD 21842
A vacation must, you've surely passed this place before while driving towards the 50 bridge. It might be because of its easy-access location, but it seems like everyone has attempted the all-you-can-eat crab feast at Hooper's while on vacation in OC at least once. Most prices range from $26 to $30 for crab meals, and all-you-can-eat specials include steamed crabs seasoned in Old Bay, steamed shrimp, fried clam strips, fried chicken, BBQ baby back ribs, corn on the cob and hush puppies. Go on a bayside adventure at Hooper's with your whole family.
Assateague Crab House
7645 Stephen Decatur Hwy, Berlin, MD 21811
This crab house is convenient if you're staying on Assateague Island. Located on Route 611, about one mile north of the State Park, Assateague Crab House gets their crabs straight out of the surrounding waters. The crab house offers all-you-can-eat crabs and is also known as the "home of Mom's crab cakes" (they've been owned by the same family since 1985). The all-you-can-eat deal is good for crabs, shrimp, fried chicken, corn and coleslaw. This crab joint opens at four on weekdays and noon on the weekend.
9703 Golf Course Rd, Ocean City, MD 21842
Crab Alley is said to have been the locals favorite since 1984. This staple crab spot is located off of Golf Course Road in West Ocean City and overlooks the Ocean City Commercial Fishing Harbor. That said, you can be sure that your crabs are coming straight out of the local bays and will be the freshest of fresh. Crab Alley offers a happy hour menu, all-you-can-eat deals and a fresh seafood market. Large groups and parties are always welcome at this restaurant, and you can enjoy your dinner while viewing the water from the expansive deck over the harbor.
12000 Coastal Hwy, Ocean City, MD 21842
Crabcake Factory USA is perfect if you don't feel like picking your own crabs – it can be a lot of work, after all – and if you enjoy the fare enough, you can even have their World Famous Crabcakes shipped straight to your door once your vacation is over. The family restaurant and pub is open year-round, seven days a week at their original, newly-renovated location on 120th street oceanside, and there are a few other locations in the area, too.
Crabs To Go
11247 Ocean Gateway, Berlin, MD 21811
Crabs To Go is a favorite of those who live in the Ocean Pines and Berlin area. Located on the corner of Route 50 and Route 589, this crab shack is a satisfying and convenient pick if you're in the mood for takeout, plus it's open every day of the year except Christmas. To Go's crabs come from the Choptank River in Cambridge, MD, which they say produces the heaviest, fattest and sweetest crabs on the Shore – whether that's true or not, you'll have to find out for yourself. Have a picky eater in the family? Their chicken tender basket is great and comes with homemade honey mustard dipping sauce. Live, steamed hard crabs can be purchased at To Go by the bushel or by the dozen.
3102 Philadelphia Ave Ocean City, MD 21842
With two locations (one on 31st and one on 128th Street), Higgins' atmosphere has a way of signaling the start of summer, with their colorful umbrella-topped tables, string lights and outdoor seating for those warm, breezy nights. They're great if you want to have a crab-picking party or are just feeding a large group – Higgins welcomes all party people and offers private rooms, kids menus and, of course, all-you-can-eat options.
109 N Atlantic Ave, Ocean City, MD 21842
One of the only crab houses located along the beach in Ocean City, right on the boardwalk. Their logo should be reason enough for you to stop in – a smiling crab holding a frothy mug of beer pretty much represents every Maryland native. Located right next to the Ocean Gallery, Mug and Mallet offers all-you-can-eat Maryland blue crabs, snow crab legs and steamed shrimp, priced daily per person, fresh out of the Ocean City bays. And beer, obviously.
2906 Philadelphia Ave, Ocean City, MD 21842
In case you can't wait another minute to satisfy your crabby cravings, PGN Crab House is known for its quick, friendly service and fair pricing. Located on 29th Street and Philadelphia Avenue, crabs at PGN can be purchased by the half dozen, dozen or bushel. A traditional menu that includes burgers, sandwiches and other American cuisine is also available for dining-in or carryout.
2004 North Philadelphia Avenue, Ocean City, MD 21842
One of the more popular OC traditions, Phillips is also one of the oldest, established in 1956. Some of Phillips' recipes are generations old and come straight from the kitchen of former owner Shirley Phillips, proving true the old adage "don't mess with success." In 2015, Phillips won Best Seafood in Ocean City's "Best Of" awards, and in 2015 and 16 was a runner-up for Best Buffet.
13005 Coastal Hwy, Ocean City, MD 21842
You can't miss this huge, tin roofed crab house on 130th Street. Both visitors and locals rave about the crabs at Crab Bag, where you can spend hours hanging out and picking crabs in the casual, comfortable atmosphere. Crab Bag is known for having "the fattest crabs ever" – just take a seat at one of their picnic tables and start cracking.
On the Bay Seafood
4204 Coastal Hwy, Ocean City, MD 21842
Located on 42nd Street and Coastal Highway, On the Bay Seafood is known for their "heavy" crabs. All-you-can-eat crabs cost only $25 per person. This restaurant's slogan is "We catch them, steam them, and serve them!" and you just need to show up ready to dine on fresh seafood. Eat on a picnic table with sand beneath your feet or call in for carry-out. On the Bay was voted Best Crabs in OC by Baltimore Sun readers.
12505 Ocean Gateway, Ocean City, MD 21842
Waterman's has been an Eastern Shore tradition since 1982. Head to Waterman's, off of Route 50 in West Ocean City, for carry-out crabs, dining in, or even cooking your own meal: just go to their fresh seafood market and ask for the freshest catch of the day. Waterman's has a dining room, sports lounge and bar that are open all year. They describe themselves as a "hip, family-friendly fish house and bar," but you're not really hip until you try the Waterman's Feast: all-you-can-eat blue crabs, steamed shrimp, fried chicken, hush puppies and corn on the cob.
*This guide was updated on June 13, 2018.