(Dec. 12, 2014) Multiple doors have opened for Pinch Me Therapy Dough after the pliant putty was featured in celebrity gift bags at the American Music Awards, Nov. 23.
"Feedback from the American Music Awards has been fantastic as the celebs loved Pinch Me," said inventor Nancy Rothner.
Organizers of the award show found the product and contacted her "out of the blue," she said.
Rothner sent 150 containers of Pinch Me Therapy Dough for the AMA gift bags.
Actress Nikki Soohoo, who appeared in the movie the "Lovely Bones," contacted Rothner to have Pinch Me featured at her launch party in Beverly Hills.
Soohoo, Rothner said, will have the party this week and loves how each container sold will pay for a half-day of stress management training with Bootstrap USA for members of the military. Bootstrap is an easy-to-use yoga system specifically designed to help heal military duty-related stress, including post-traumatic stress.
"There has been a surge in activity since the AMAs and a huge explosion of activity in the last couple hours," Rothner said.
Another reason for the boost in activity is an interview Rothner had with nationally syndicated radio host Jon Grayson on "Overnight America" with CBS Radio.
Rothner posts reviews of Pinch Me on her website, www.pinchmedough.com.
"It's nice because people have taken the time to describe the product in detail and it's unique to see their words and experiences," Rothner said, "I am very excited, it is a process, but everything has been going well. One door is opening up more doors."
The stress reliever is pliant putty infused with soothing scents and colors designed to channel relaxation through the senses.
"We will continue to keep getting the word out in every way we can. It is important for people to know there is a tool that can reduce their stress level," she said.
A clinical hypnotherapist from Lewes, Del., Rothner's invention was inspired by her parents. She wanted to make a product that helped reduce their stress, in addition to relieving stress for people who do not visit her office. Pinch Me Therapy Dough focuses on touch, sight and smell. Working the dough, according to Rothner, helps relieve tension while the six scents are intended to draw positive memories. The choices include tropics, ocean, beach, spa, earth and a scent for men.
Each container of the stress-relieving putty costs $19.99 or customers can order all six scents for $97.99. Shipping is free anywhere in the U.S.
"Join our quest to reduce the stress, one container at a time," Rothner's mission statement reads.
The product can be purchased online through her website or at Bad Hair Day in Rehoboth Beach, Del. To learn more about Bootstrap, visit www.BootStrapUSA.com. To listen to Rothner's radio interview, visit tunein.com.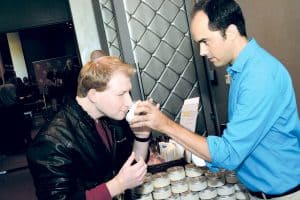 Adam Wylie, best known for his performances on Broadway,

smells the tropics Pinch Me Dough at the American Music

Awards on Sunday, Nov. 23. Nancy Rothner, of Lewes, Del.,

creator of Pinch Me Therapy Dough, has seen an increase in

sales since the pliant putty was featured in celebrity gift bags

handed out during the awards.