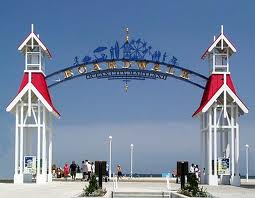 Ocean City's skyline and ocean front have changed dramatically since I started coming here as a teenager in the 70's.  Old structures have come down and condos have gone up.  Gaps on the bayside and oceanfront have almost all been filled and the Boardwalk has been re-built.  Many physical things changed rather quickly, but the food scene remained the same up until about 10 or 15 years ago.  The classic Ocean City food scene was based on Boardwalk food and Crabs prepared just about any way imaginable and on top of anything imaginable.  This was as it should have been because the crab industry helped build the Eastern Shore and brought it to national importance.  For years visitors have come to Ocean City to play on the beach and eat crabs, as is evidenced by the multitude of "crab houses" and "Best Crabcake in Town" signs there are along Ocean Blvd.
On Nov. 23, 1993 a little something called The Food Network came on the air and the food scene everywhere was about to change, including Ocean City.  It took a while and no one really foresaw its impact, but this new TV network changed the way Americans saw and ate food as well as how they perceive those who prepare it.  It took Ocean City a little longer to catch on to the trend, but 15 years ago we started seeing some new blood and fresh ideas move into our food scene.  Remember "things move slower on the Eastern Shore" and the growth of alternative restaurants has been slow and deliberate but it is happening none the less. Today we are very fortunate to have some great alternatives; from classic Mexican taquerias and California style surfer cuisine to Middle Eastern Kebob houses and a number of very good Sushi joints and even a Thai restaurant.  We have a number of good Italian restaurants, Gourmet Burger places and award winning restaurants specializing in cutting edge fusion cuisine.
As the "Hardcore Foodie" for Oceancity.com I have compiled a list of some of these "new" restaurants, but by no means does this mean that this is all that are available.  There are a some excellent offerings to the North in Bethany Beach, Rehoboth, and Lewes Delaware, and also to the west in Cambridge and Easton Maryland, so use my list as a starting off point and have fun finding your own favorite new places and start your own new dining traditions.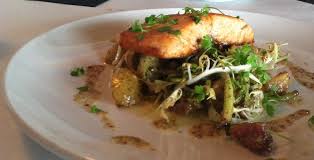 Upscale Ocean City Restaurants
Let us begin with what might be classified as Ocean City's "upscale" dining offerings.  My two favorites at the moment are The Shark on the Harbor  located in the West Ocean City Fishing Marina area and Hooked which is located on 80nd Street on the bayside in Ocean City.  The Shark is the most adventurous restaurant in Ocean City with multi-cultural fusion offerings, the first to feature "farm to table" cooking, and interesting takes on classic comfort foods.  Hooked is a relative new comer to our town but with its handcrafted cocktails and classic culinary presentations on seafood and proteins I am glad they made it here.  Two other restaurants, that may be worth checking out, are Liquid Assets on 93rd Street and the bayside and Jules Restaurant on 118th Street on the bayside in the Ocean Plaza Shopping Center.  Liquid Assets and Jules serve an upscale version of local comfort food classics with nice presentations and comfortable surroundings.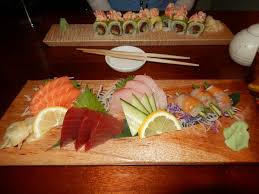 Multi-Cultural Ocean City Restaurants
Italian cuisine has always been very prominent in the United States and it is represented nicely by Ristoranti Antipasti and Fresco's Restaurant.  Ristoranti Antipasti is located at 31 Philadelphia Ave and Fresco's is further north at 82nd Street on the bayside.  Both are in the vein of "classic" Italian-American restaurants and serve those classic dishes with pride and panache.  Fresh pasta and lots of wine always make for a good time and you can get both at either property.
Classic Chinese carry-out has been popular in America since the end of WWII and Ocean City has its fair share of those establishments but a more recent love for other Asian cuisines has been developing in our American melting pot.  The most popular of these has to be sushi and not too surprisingly Ocean City has a number of very fine restaurants in this genre.  Blue Fish located at 94th Street on the bayside and The Rice House in West Ocean City are your one-stop-shops for Chinese and Sushi so I go there when entertaining a group with some who are iffy about raw fish.  OC Wasabi, on 33rd Street and the ocean is a fun and busy restaurant with very good sushi and a local favorite.  Flying Fish Sushi is in Fenwick on the bayside and is the newbie on this list.  It is very, very small and only serves sushi as opposed to cooked offerings but is very good so if everyone in your group loves sushi then give it a shot. In keeping with the Oriental theme of this section I would be remiss if I did not mention The Satellite Café and Thai Fusion Restaurant (I agree the name is too long).  The Satellite is probably the best breakfast joint in town but the fun really starts after morning service when it becomes an excellent Thai House.  The chef and co-owner is Sumatran and she creates authentic, boldly spiced classic and fusion dishes.  Go and have the Pad Thai once and you will be hooked.
Two other ethnic restaurants of note are more along the lines of carry-out properties but well worth a visit.  The first is OC Kebob located in the Gold Coast Mall on 115th Street on the bayside.  They serve excellent, authentic Middle Eastern foods and if I lived closer I would be there much more often.  The second is a place called La Abuelita Mexican Food located at 81st Street on the bayside.  The food is fresh and so authentic it is like my grandmother was cooking; oh wait look it is someone's grandmother cooking!  The only downside is that it is only carry-out and I can never seem to get the food home fast enough.
Ocean City Burgers and Cali Fun
The final two establishments are both relatively new to our town but are part of our growing infatuation with the world's perfect food, BURGERS!  The first is Abbey Burger Bistro located at 126th Street on the bayside at the edge of North Side Park.  Abbey's is a Baltimore property that just opened in Ocean City and they serve a multitude of burger both classic beef and exotic in a fun tavern atmosphere.  The Longboard Café, located on 67th Street on the bayside in the new Town Center Mall, is a Cali style surfer bar and they serve a proprietary blend beef burger that with knock you off your board.  Go for a burger and a beer and come back for the fish tacos and other excellent offerings.
Yes, Ocean City is changing and expanding its tastes but worry not, the all you can eat buffets and crab houses are on full display as well as all the classic offerings of the Ocean City Boardwalk.  Those traditions will never die and I for one am glad that they will always stick around.  I fell in love with Ocean City as a boy because of classic places like Phillips Crab House and Thrashers Fries; after all they are synonymous with a summer on the beach in Maryland.  I am just very happy that the old and the new have found a way to cohabitate and thrive in our beach community.