As recycling programs swelled across the country in 2010, Ocean City dropped traditional recycling in favor of a new, cost-saving Waste-to-Energy program.
Under the program, around 90 percent of the town's waste — including bottles, paper and other recyclables — was rerouted to an incinerator that burns trash to produce energy. It's been saving Ocean City more than $500,000 a year and, as the city's Public Works Director Hal Adkins sees it, is a viable resource for generating energy.
"Every single day, people are making trash," Adkins said. "We are repurposing our waste stream — 90 percent of it."
Ocean City did not make its jump away from recycling in one fell swoop, however.
In summer 2009, the city redirected the bulk of its trash from the Worcester County landfill to Covanta Waste-to-Energy incinerators in Pennsylvania. The cost of sanitation and waste removal for the city dropped $506,000 between fiscal years 2009 and 2010.
Before the next summer, Ocean City dropped its recycling pickup and costs fell a further $888,500 for that fiscal year.
The price of trash
The decision to nix recycling came down to one major issue: "money," Adkins said.
The tipping fee at the Worcester County landfill is $70 per ton of household waste — well above the national average of $50 reported by cleanenergyprojects.com.
Comparatively, the city pays $56.30 per ton of trash hauled to the incinerator, which private company Covanta 4Recovery handles, at least until the end of its three-year lease with the city in 2015, Adkins said.
At around 33,000 tons of rubbish going from the city to the fire, the switch saves more than $450,000 a year. A remaining 3,500 tons of wastewater sludge and street sweepings — things that can't be burned — still go to the county's landfill, Adkins said.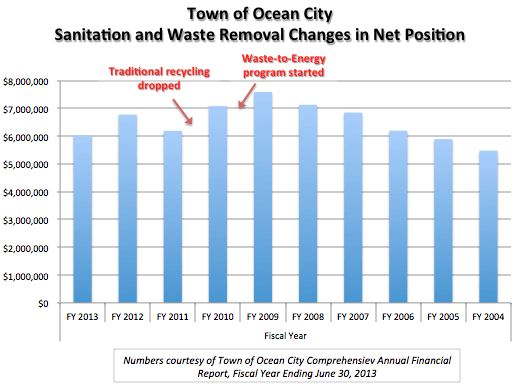 The city is also saving on employee wages. It cut five full-time workers with the start of the Waste-to-Energy program and 16 more when it dropped recycling, Ocean City's Solid Waste Manager Steve Brown said. He added that all but nine found new positions in city government.
"I tell you, it was heart wrenching," Adkins said. "Fortunately, we had some vacancies in other departments… and we were able to shift some of those nine."
Other cost-saving, but unquantifiable, measures range from selling the fleet of trucks used for recycling pickup to savings on fuel and maintenance for those trucks and electricity used to run the recycling facility, they said.
Public perception
With the economic crash, recycling was becoming less cost effective in 2009, Brown said, and "it was just going to get worse."
Environmental actions have their own value, though, and when Ocean City first dropped its recycling program, waves of criticism from residents, tourists and non-local government poured in, Adkins said.
The city launched a public relations campaign in the following years, sending releases to local papers and through its website to explain the other half of the story, the Waste-to-Energy program that repurposes trash.
In a resort town producing a glut of discarded plastic — typically made from petroleum — those leftovers are ripe for burning, Adkins said. Metals are removed by magnets and still get recycled in the traditional sense, he added.
Only around 10 percent of Ocean City's total waste was recycled at the time the city dropped the program, according to an email from then-Deputy Director of Public Works for the Town of Ocean City Richard Malone.
"In lieu of… digging up Mother Earth to get coal, some people are using biomass," Adkins said. "You pick your poison, or in this case, your benefit."
Still, zero-waste groups like GreenYes! circulated alerts urging members to contact the city council or even consider boycotting Ocean City.
"I feel very strongly about this," wrote Alan Muller of Green Delaware in 2010. "For a wealthy town to shut down recycling and send its garbage to be burned… is obscene."
Lifelong visitor and environmental writer Barbara Runion, of Hyattsville, wrote letters to the town and state government urging them to restore recycling.
"Ocean City's near and dear to my heart," Runion said in an interview, but "unless the town council incorporates or brings back recycling… they (visitors) may take one look at that and think, 'Hey, there are better places to go.'"
"Those conversations, they'll go on for the rest of my career, I'm sure," Adkins said.
While state law requires counties to implement and manage local recycling programs, it does not require municipalities to follow recycling programs.
When Ocean City dropped recycling in 2010, the change did not hamper Worcester County from meeting its goal of recycling 15 percent of its waste, as outlined in the Maryland Recycling Act, Adkins said.
"It wasn't a negative at that point in history. Will it be in the future? I don't know," he said.