"This year will be out 13th Annual local blood drive on February 8th and 9th 2011 at the Ocean City Convention Center," said Carrie Aiken, spokesperson for the Delmarva Blood Bank.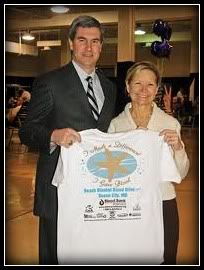 Blood collected from this year's Beach Blanket Blood Drive in Ocean City will go to 16 local hospitals and their patients. The 2-day blood drive draws a large crowd. Last year, 784 donors registered to give blood, and even more showed up that weren't registered yet.
The largest regional 2-day drive is always a festive event in Ocean City. The convention center will be filled with those willing to help. Ocean City businesses donate lots of food and each donor will receive a Beach Blanket Blood Drive t-shirt.
All blood types will be collected. The Delmarva Blood Bank is in need of universal type O negative blood. O negative blood is administered to about 15 percent of all patients. If you are new to donating blood, don't worry. Blood Bank representatives will be able to answer any questions you may have.
To register for the Beach Blanket Blood Drive go to www.delmarvablood.org . Appointments are recommended but walk-in donors are welcomed as time allows.
The Beach Blanket Blood Drive takes place:
-Feb. 8th, 2011
Tuesday, 10 am to 6 pm
-Feb. 9th, 2011
Wednesday, 9 am to 5 pm

Go to the Roland E. Powell Convention Center on 40th Street and Coastal Highway in Ocean City to donate blood this year!